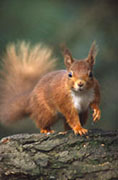 Coquetdale Squirrel Group
Red Squirrels in Coquetdale
Now extinct in most parts of England, the red squirrel still lives in many woodland areas in Northumberland and, in particular, in and around Coquetdale.
As you enjoy the beautiful scenery in Coquetdale you may be fortunate to see some of these delightful animals scampering up a tree or helping themselves to wild fruits and berries. For more information about the lifestyle of red squirrels click here:

Threats to the red squirrel
Predators, viruses and changes to the landscape all pose threats to our native red squirrel but the introduction of the grey squirrel from America is thought to be the main reason behind a dramatic decline in the red population in recent years.
Red squirrels live in both native broadleaved woods and in planted conifer blocks but cannot compete with the larger grey squirrel. In addition the grey carries a virus that is fatal to reds. For more information on the threats to red squirrels click here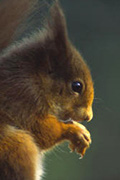 Who are we?
Here in Coquetdale a group of volunteers (the Coquetdale Squirrel Group) is working alongside other organisations such as Red Squirrels Northern England(RSNE) and Northern Red Squirrels(NRS) who are keen to keep our red squirrels in Coquetdale.
What do we do?
We monitor where there are red and grey squirrels and record sightings. We collect reports of sightings by members of the public within out area to find out:
i) where we have healthy populations of reds
ii) where the greys are coming in and bringing the fatal squirrel pox to the reds
We coordinate our activities with other volunteer groups across Northumberland.
We work within our local community to publicise the plight of red squirrels and encourage people to help them.
We hold fundraising events to support our monitoring activities and help towards grey control.
We assist land-owners to obtain grants (for instance, from The Forestry Commission) to pay for trapping.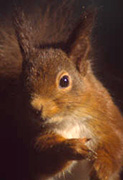 How can you help?
You can help by reporting any squirrel sightings, red or grey, dead or alive, to the Coquetdale Squirrel Group:
Phone us on: 0774 0779 729
E-mail us on: ispysquirrel@hotmail.co.uk
This information helps us to build up a clear picture of where we have healthy red squirrels in good numbers and where the greys may be encroaching.
Whichever method you use please include your name and contact details so that we can get back to you if we need more information, plus the important information WHAT, WHERE and WHEN:
What you saw
Where you saw it
When you saw it
A simple example could be :
James Brown, Tel No 01632 960464

I saw 2 grey squirrels at the main entrance to Cragside House on 15th Oct. Both appeared healthy"
If you have red squirrels near your home you can support them by providing supplementary food. For more information see:

If you know there are squirrels in your area you could put up a few signs warning motorists to look out for them.
You could also support your local group by helping out at fund-raising events or other activities such as monitoring in woodland or your garden.
Join Us?
If you feel you can provide a little help or support to our group in any way please contact the group via the e-mail address or phone number above.
Thank you for your help
Content produced by members of the Coquetdale Squirrel Group
Photos by Dave Robinson and Hugo Aiken - taken from their book "Nature in Northumberland's Upper Coquetdale"